Dermal fillers are gel-like substances that are injected beneath the skin to help to diminish facial lines and restore volume and fullness in the face. Depending on the type of filler, the effects can last anywhere from six months to two years.
The common issues dermal filler can help with :
Smooth out lines around nose and mouth (marionette lines, parentheses and smile lines )
Plumping the thin lips and smoothing out vertical lines around the edges.
Augmenting cheeks to enhance their shape, restoring youthful fullness.
Filling out depressions (hollows) under the eye area.
Smooth out a chin crease.
Body Lab Bali uses only the leading world brands of dermal fillers including Juvederm, Neauvia, Restylane, Teosyal, Stylage.
Duration: 30 min
Price IDR. 4.200.000 – 5.000.000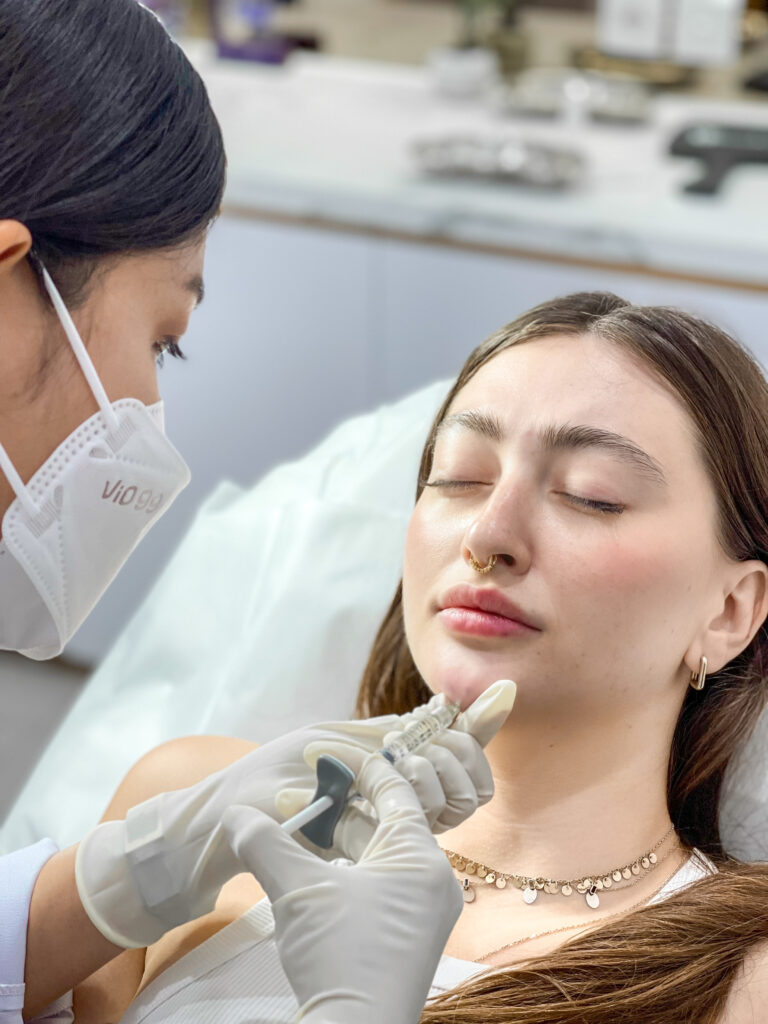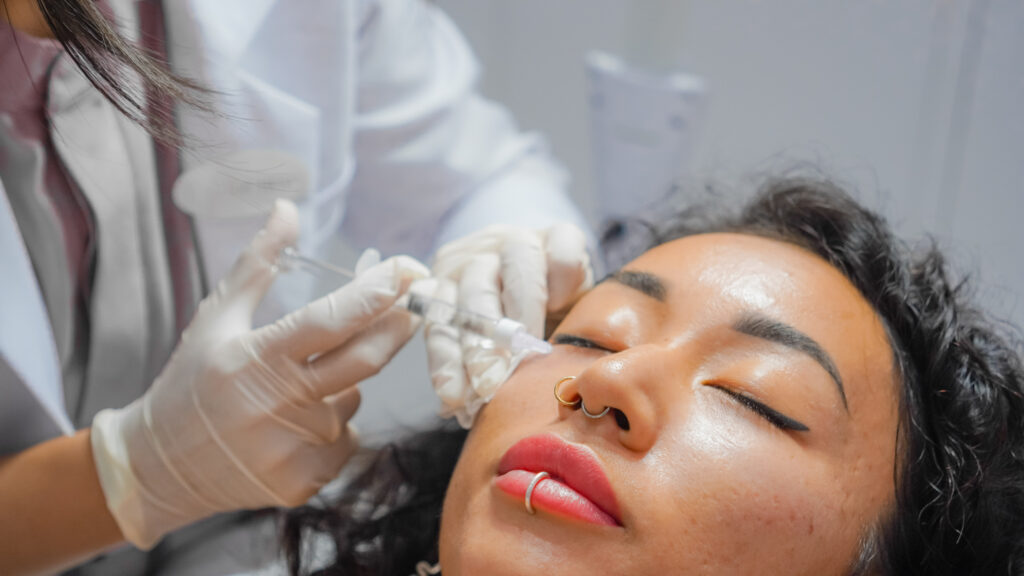 Biorevitalization
Skin Boosters are micro-injections of very smooth dermal filler that contains hyaluronic acid. The hyaluronic acid is a soft substance that absorbs water and brings deep skin hydration to the treated areas, improving its firmness, elasticity, and smoothness. Pores and scars become more refined and skin tone improves significantly. Typically, Skin Booster results last for about six months.
BENEFITS:
Radiant and hydrated skin
Improves elasticity
Reduces acne scarring
Refines and firms skin
Reduces fine wrinkles and expression lines
Body Lab Bali uses only the leading world brands of skin booster including Profhilo, Rejuran, HYAL System, Restylane, Juvederm, Nucleofill, Xela Rederm and NCTF 135 HA.
Duration: 30 min
Price IDR 2.500.000-7.000.000
Collagen Stimulation
Introducing our revolutionary treatment, Radiesse, that helps you achieve the youthful and radiant skin you've always dreamed of. Radiesse is a thick injectable filler that provides natural-looking, long-lasting results, using the main ingredient, calcium hydroxylapatite (CaHA). After injection, the Radiesse gel instantly fills wrinkles and fine lines and restores the desired volume. Over time, calcium hydroxylapatite (CaHA) triggers your body's natural production of additional collagen, leading to a smoother skin appearance.
Areas: Face, Neck, Hands
Price IDR 9.000.000 | 1syr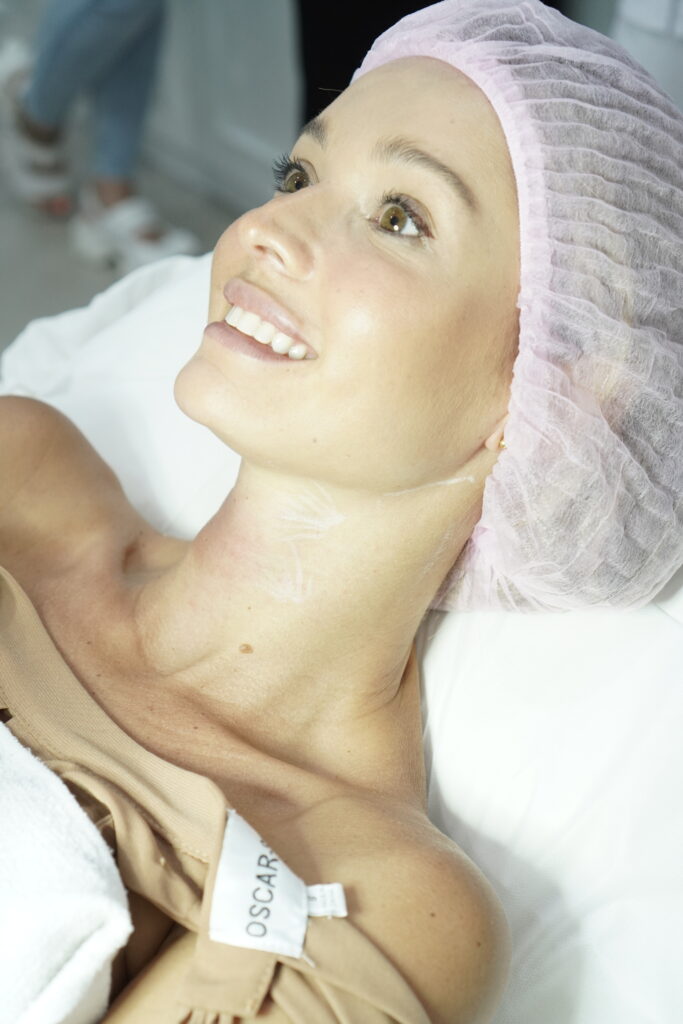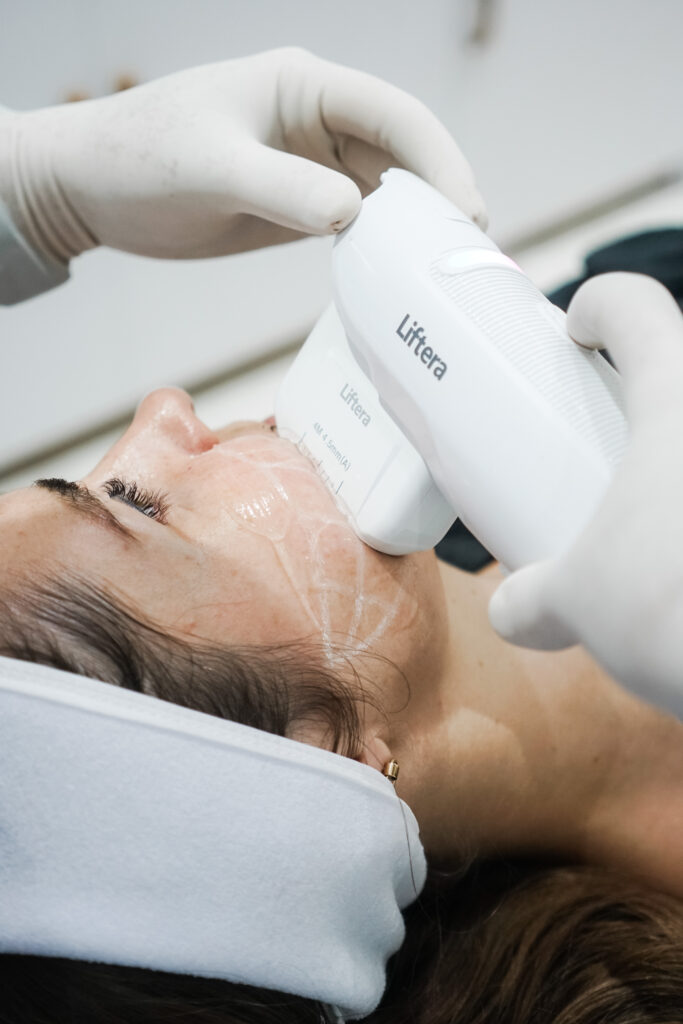 Liftera Hifu | smas lifting
High Intensity Focused Ultrasound
Body Lab Bali is proud to introduce you to our latest NON-SURGICAL Face-Lift treatment: Liftera HiFU!
This procedure is highly effective thanks to the unique accurate and stable heat delivery system called Thermal Diffusion Treatment (TDTTM). This system works at SMAS level, meaning 3 – 4.5 mm below the skin surface, where the facial muscles are connected to the upper layer of the skin, which is also the layer that plastic surgeons manually pulls during a face.
Liftera HiFU uses ultrasound energy which causes the tissue at the SMAS layer to heat up rapidly. Once the cells in the targeted area reach a certain temperature, they experience cellular damage which stimulates these cells to produce even more collagen and elastin.
This fresh production of new collagen and elastin helps improve the texture of your skin, making it firmer, tighter and stronger as well as giving the face a natural lifting, youthful effect, diminishing expression lines and wrinkles.
HIFU LIFTERA has two different applicators (Pen & Line), which allows the treatment to target different areas of the face more effectively and comprehensively without relying on surgery, and its well-known potential complications and risks.
One of our favorite things about Liftera is that doesn't involve down time, and make-up can be re-applied right after. It is very safe without causing any irritation, side effect or damage to the skin, being this treatment fully approved by the FDA.
Benefits:
Deep Lifting effect
Skin tightening
Contouring
Rejuvenation
Long lasting results
Price IDR 5.500.000
Rejuvenation, Acne Scars, Reduction of Fine Lines & Wrinkles
At Body Lab we are offer:
EPN Microneedling Growth Factor
Electroporation Microneedling
IDR 1.350.000
Vampire Facial | PRP
Injections + Microneedling
IDR 2.500.000
Endymed RF Microneedling
3 Deep Radio Frequency
IDR 3.500.000
Benefits :
Increases collagen production
Reduction of fine lines and wrinkles
Firmer, tighter skin
Improves moisture retention
Enhances skin tone and texture
Reduces hyperpigmentation and pore size
Minimizes broken capillaries and spider veins
Improves skin texture and appearance of scars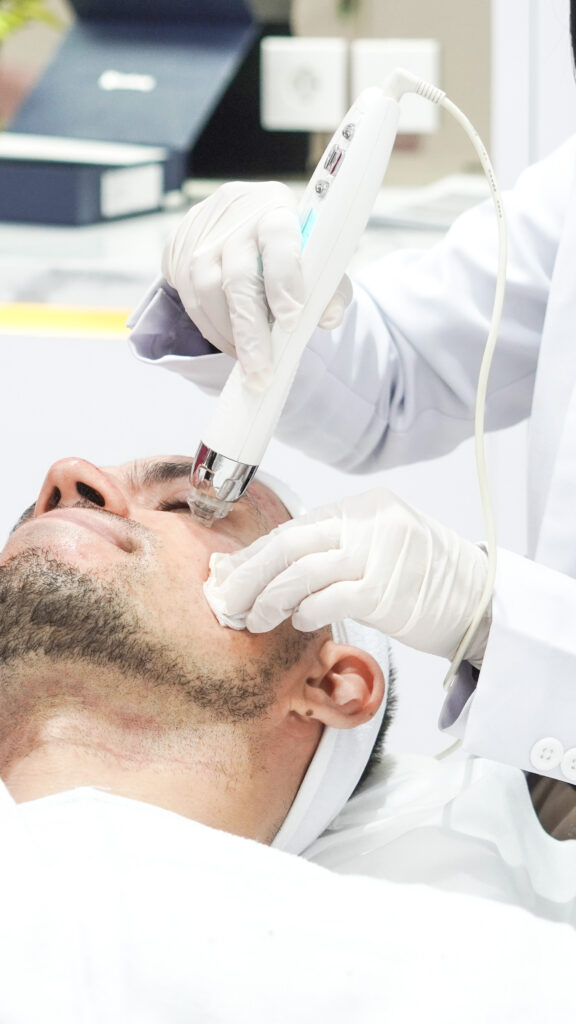 Anti Hair Loss, Hair Growth Stimulation
Meso Hair Injection
IDR 700.000
Meso Hair EPN  Microneedling
Electroporation Microneedling
IDR 1.350.000
PRP – Platelet Rich Plasma
Injections + Microneedling
IDR 2.500.000
⁠Benefits:
Prevention of hair loss
Enhancement of new hair growth
Stronger and shinier hair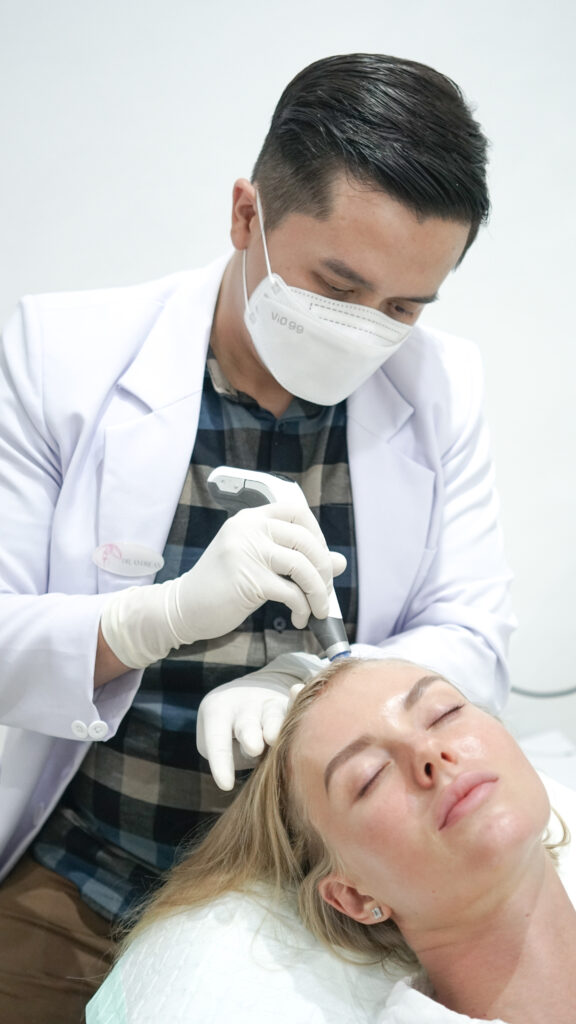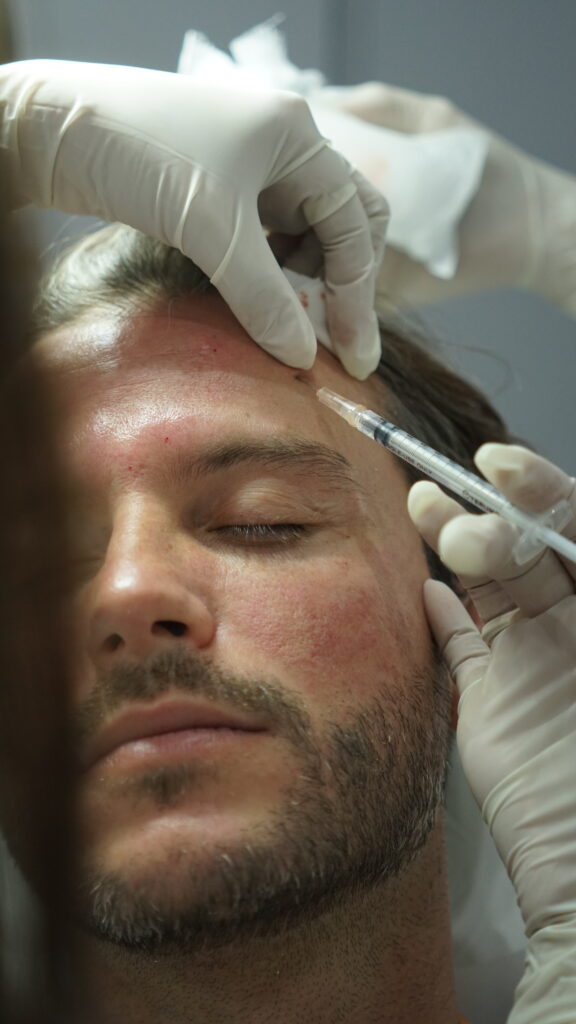 Mesotherapy is a non-surgical cosmetic procedure that involves injecting small amounts of customized substances, such as vitamins and minerals, into the middle layer of the skin. This treatment is used to address various cosmetic concerns, including skin rejuvenation and localized fat reduction.
At Body Lab we are offer :
Meso Anti Acne Injection
IDR 650.000
Meso Under Eyes
IDR 650.000
Meso V Shape
IDR 650.000
Mess Fat Burner Body
IDR 700.000
Meso Anti Pigmentation
IDR 950.000
At BodyLab Bali we want you to support your beauty from inside out!
At Body Lab we are offer:
Super Multivitamin IV – Immune Booster, Beauty Cocktail
IDR 900.000
Slimming IV – Metabolism Booster
IDR 1.500.000
Anti-Aging IV – Detox, Skin Care Rejuvenation
IDR 1.600.000
Detox IV – Detox Blood and Liver, Hangover Cure
IDR 1.700.000
Whitening IV – B Complex, Ascorbic Acid, Thioctosan
IDR 1.700.000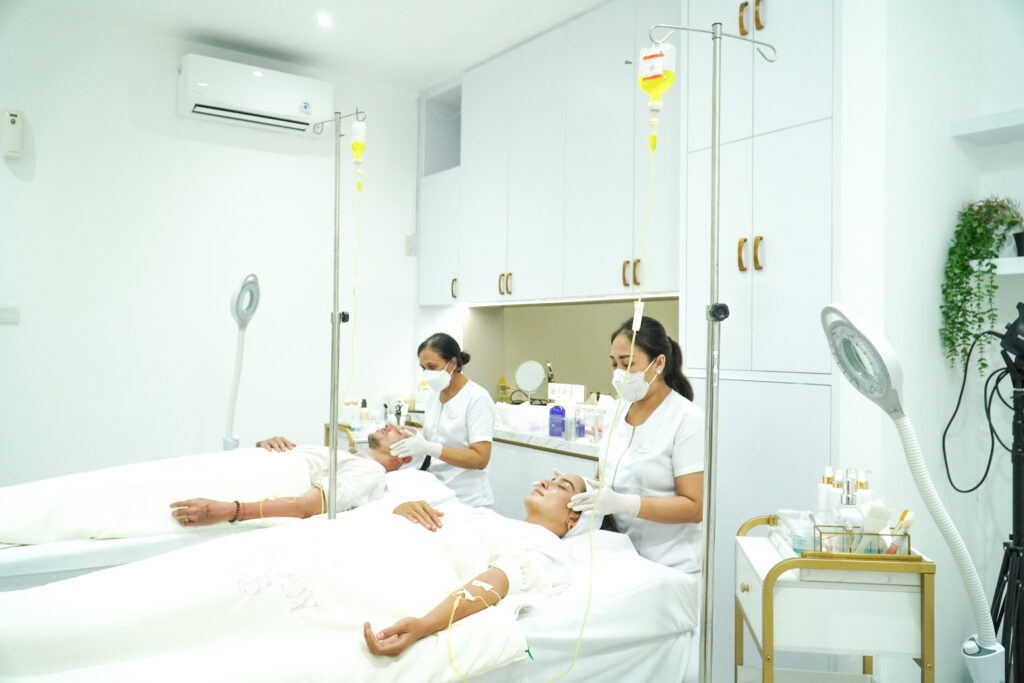 With EPN Electroportation Microneedling
EPN is the abbreviation of Electroporation Needle. It is a therapy to rejuvenate the skin using micro needles stimulating the mesoderm (middle layer of skin) without any scarring and boosting the natural skin healing process and the collagen rearranging process. It is the newest innovative drug delivering device to deliver the drug directly to the skin, to give appropriate stimulation to the area without damage of the skin.
Meso dermaheal anti hair lose with EPN microneedling
DermaHeal HL is a powerful anti-hair loss prevention by mesotherapy. It promotes hair regrowth and also does scalp care. It prevents hair loss and alopecia which is a common problem in aged men and women. It increases hair growth by revitalizing the hair follicles and restoring and improving blood circulation. The hair thickness and fullness is also increased and also it provides moisture and nourishes to hair and scalp.
Dermaheal HL is a hair serum with a unique composition for anti-hair loss. It contains 56 substances including 13 vitamins (vitamin A, B1, K, etc.), 5 minerals and 4 nucleic acids.
Principle of EPN pen :
When injecting microneedle electrodes 0-2.0mm depth below the skin surface ,it induces precise drug delivery throughout pores  .Microneedle electrodes induces electroporation instantly to deliver a drug throughout mcro-pores on the dermal fibroblast membranes.
Benefits of Dermaheal Meso anti hair lose with EPN microneedling :
prevention of hair loss
enhancement of the growth of new hair
Price IDR. 1.350.000
Skin Rejuvenation
Profhilo is an anti-aging injectable treatment that contains hyaluronic acid for skin rejuvenation, hydration and elasticity. Profhilo's unique molecular structure stimulates the formation of 4 types of collagen, elastin and adipocyte (fat) stem cells which proliferate causes skin bioremodelling while hydrating skin from within.
No BDDE or chemical cross links
Profhilo contains no chemical crosslinks or BDDE (1,4-Butanediol Diglycidyl Ether). BBDDE has been associated with a slightly increased risk of inflammation and the formation of bumps in the skin, but BDDE in general in dermal fillers and Skinbooster is very safe.
Less inflammation and higher spreadability with Profhilo
Profhilo's patented NAHYCO® technology binds high and low molecular weight hyaluronic acid via thermal cross-linking to form a Hybrid Cooperative Complex Hyaluronic Acid which allows for a lower inflammatory response, low viscosity, and high dispersibility. 
Collagen and elastin bioremodelling in the skin with Profhilo injections
This hybrid complex of hyaluronic acid also tightens, hydrates, and rejuvenates the skin by initiating collagen and elastin at different skin depths.
Profhilo also contains one of the highest concentrations of hyaluronic acid to promote skin hydration.
IS PROFHILO SAFE?
So far, Profhilo injection treatments have been shown to be safe. Hyaluronic acid is safe to inject into the skin and this has been confirmed by research. There are several features in the Profhilo treatment that enhance the injection safety profile:
Absence of chemical cross-linking or BDDE for greater biocompatibility in human skin. It also lowers the risk of inflammation and the formation of lumps under the skin with Profhilo injections.
The injection points for Profhilo are less than Skinbooster which means a lower risk of side effects and complications such as bruising and (very rarely) infection.
Profhilo injection points are also standardized – 5 injection points are called Bio Aesthetic Points (BAP)3,4,7; which is far from the main nerves and blood vessels; so the risk of injury to these structures is much lower.
WHERE ELSE CAN PROFHILO BE INJECTED TO?
Price IDR. 7.000.000 1syr